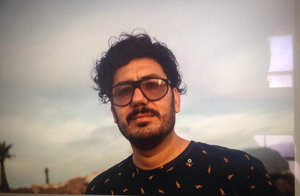 Julio M. Romero, Mexicali México, 1984.
Julio is a transdisciplinary artist that explores the boundaries between photography, video and sculpture, examining the overproduction of images, pop culture elements and the sociopolitical impact of mediatization, by documenting everyday situations and transmuting them in visual testimonies of the impact of consumerist societies.
He has presented his work collectively and individually in Cuba, Denmark, Japan, Netherlands, Canada, China, USA, Spain and throughout Mexico, in exhibitions such as: "BORDERLANDS" at CECUT in Tijuana, México , "STATIC SCOPE" at Akiba Tamabi 21 in Tokyo, Japan , "MIGRATION WORLD CINEMA" at Nieuwe Vide in Haarlem, Netherlands, "Border Disorder" at the Montalvo Arts Center in Saratoga, CA, "GLOCAL INTENT" at TJINCHINA project space in Tijuana and "Playas Lado B"' at Steppling Art Gallery in Calexico, CA.
He has received awards such as the Acquisition prize at the XIV Northwest Visual Arts Biennial in Mexico, and the prestigious Young Creators Grant by the National Fund for the Arts Mexico.
His work is part of collections such as the Tijuana Cultural Center (CECUT), the CODET foundation, Elías-Fontes Collection, and Iberoamericana University among others.
Currently lives and works in Tijuana.